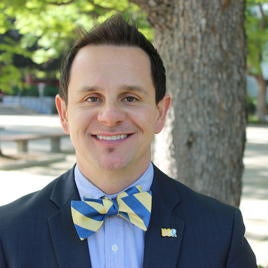 Charles Scruggs
Director, Health Professions Advising Center
Oversees the Health Professions Advising Center
Master of Arts, University of Cincinnati (2008)
Bachelor of Science, University of Cincinnati (2004)
Contact Information
HPAC
Rivera Library, B3
(951)827-6233
9am - 12pm, 1pm - 5pm
Charlie Scruggs join the UCR Health Professions Advising Center in August 2014. As a director, he oversees Center advising, programming, staffing, and other areas specific to the unit.
Charlie has over 15 years of experience in major advising, pre-health/pre-law advising, residence life, student conduct, and other areas in higher education.
Charlie earned both his undergraduate and graduate degrees from the University of Cincinnati.
Vice President and Member, Western Association of Advisors for the Health Professions (WAAHP)
Member, National Association of Advisors for the Health Professions (NAAHP)
Member, National Academic Advising Association (NACADA)