Physics students win prizes at international conference
Barry Goldwater award winner, Peter Carney, wins "Best Presentation Made in the EIC User Group Early Career Workshop" award at international conference
UC Riverside physics students Sean Preins and Peter Carney were awarded prizes at an international conference that took place 25-31 July at the University of Warsaw in Poland. The pair won two of only three prizes given at the 2023 Electron-Ion Collider User Group meeting.
Preins, a graduate student, and Carney, an undergraduate student, are members of a research group led by Miguel Arratia, an assistant professor of physics and astronomy. The Electron-Ion Collider, or EIC, is a planned major new nuclear physics research facility that will explore mysteries of the "strong force" that binds the atomic nucleus together. Electrons and ions, sped up to almost the speed of light, will collide with one another in the EIC.
"I am not surprised Sean and Peter won the awards," Arratia said. "They are talented speakers and already have considerable experience with various conference presentations."
Preins received the "Best Student Presentation made at EIC Early Career Workshop 2023 in Warsaw, Poland." His talk during the EIC Early Career Workshop and at the main EIC User Group Meeting discussed a particle detector the Arratia research group is developing for the future EIC to measure the energies and trajectories of particles that result from the collisions.
"The detector will be made up of many small tiles that are sensitive to particles that pass through them and can together produce an 'image' of the collision similar to the pixels in a digital camera," Preins said. "Normally, our resolution would be limited by the physical size of these tiles, but a clever algorithm developed by Dr. Sebouh Paul, a postdoctoral researcher in our group, can improve our detector's performance even further by staggering each layer of tiles in our detector."
According to Preins, the detector will help researchers study the internal structure of the proton and will explore how the strongest force in nature behaves with unprecedented precision. 
"In a sense, it will act as the world's largest microscope to investigate the origins of proton mass, spin, and potentially a new state of matter known as 'color glass condensate,'" he said.
Preins, who had never visited Warsaw before, found the city to have "a rich history, amazing food, and great people."
"I especially enjoyed being able to interact with and listen to other members from across the entire EIC collaboration," he said. "As the EIC continues to be developed, it is exciting to see everything begin to come together to make this ambitious project a reality."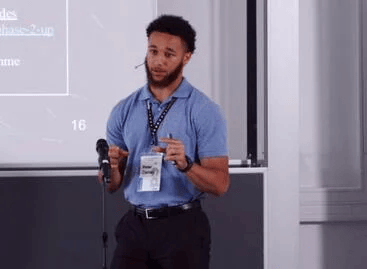 Carney, who competed on an equal footing with senior graduate students, received the "Best Presentation Made in the EIC User Group Early Career Workshop" award. His presentation included performance results the Arratia research group received in a beam test at Jefferson National Laboratory last January. According to Carney, the beam test was a proof-of-concept test for a calorimeter — an energy detector for high energy particles — that the Arratia research group is constructing for the EIC. 
"We constructed a prototype that worked well, and I was happy to present those results at the meeting," Carney said. "This test gave us a better understanding of how best to approach building this type of calorimeter. Our detector is expected to receive the bulk of the data in the collider when it is up and running."
Like Preins, Carney gave his presentation at the EIC Early Career User Group Workshop and at the EIC User Group Meeting, offering him an opportunity to visit Warsaw for the first time. 
"I got a good sense of the city's rich history," said Carney, who also enjoyed connecting with scientists and colleagues at the conference. Carney traveled to Warsaw from the European Center for Nuclear Research, or CERN, in Switzerland, where he was doing research. "Of all the places in Europe I had the pleasure of visiting this summer, Warsaw was my favorite."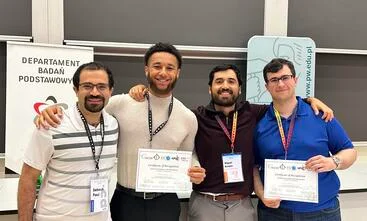 To his surprise and delight, a staff scientist at the EIC User Group Meeting remarked on how Carney brought a joyful energy to the conference, keeping everyone engaged to the very end of his presentation.
"That comment will remind me to keep that joy and energy in presentations I will make in my career," Carney said.
Carney was recently awarded a Barry Goldwater Scholarship and an Academic Excellence Award from the UCR Department of Physics and Astronomy. Preins is a recent recipient of the department's Albert Staats Award.
The Electron-Ion Collider User Group Meeting 2023 was organized by the Candela Foundation, Warsaw University of Technology, and the National Centre for Nuclear Research.
The Barry A. Goldwater award is managed through Prestigious Scholarships & Awards within the Center for Undergraduate Research & Engaged Learning and is awarded to students who demonstrate outstanding research potential and intend to pursue research careers in mathematics, the natural sciences, or engineering..